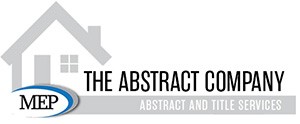 Premium service is our first priority.
The Abstract Company is MEP's full service abstract and title insurance company. Our attorneys frequently assist with closings, document preparation, commitment and policy review, and resolution of particularly difficult title issues.
The Abstract Company has been providing abstract and title services to Jackson, Jennings, and Scott Counties since 1978. The Company writes title insurance for one of the largest title underwriters in the nation, Chicago Title Insurance Company.
As a full service company, The Abstract Company provides abstracts, title searches, lien searches, title insurance, and closing services for residential, commercial, industrial, and governmental real estate in the counties it serves. These services are provided to banks and mortgage lenders, purchasers and sellers, realtors and builders.
Our competitive title insurance rates, professional closers, abstracters, and dedicated production department insure our customers the quality services that they deserve as well as excellent value for their money. We are a fully licensed title insurance agency and are committed to a positive environment that recognizes our employees and clients as our greatest assets.
Our title operation includes searching and examining real estate documents to assist with the determination of encumbrances and liens that could affect the condition of good title. Drafting and understanding of legal descriptions is necessary for accurate determination and examination of documents applying to the real estate being searched.
Please feel free to telephone or fax for any assistance of land title services by dialing 812.522.4109 or fax 812.523.3144.
The Abstract Company
308 W. Second Street . Seymour, IN 47274
Phone: 812.522.4109 . Fax: 812.523.3144